Use the One More Way™ Search Engine Powered by Google™ to find the disability information that you need.

Learn about Teleseminars.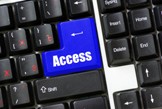 The One More Way Collaborative
One More Way™ is an 'open source' employment initiative that makes information regarding Job Seekers with disabilities, and the programs that support them, available for use by hiring managers in virtually any industry across the country. We bring everyone together to overcome employment obstacles, share opportunities, and create new connections where none have been established. 
The One More Way collaborative serves as a forum for all parties involved in the area of disability and employment to come together to do together what we cannot do alone.  As an open sourced, free membership project, we reach small business as well as large private and government hiring managers.  By including veterans and professionals with acquired disabilities, our project reaches deep into America's largest pool of untapped talent.
Join Us:
We invite you to join our one-million-member strong collaborative, adding your own knowledge and experience to the project, as we continue to reach closer to our goal of driving up employment for people with disabilities – starting with our veterans!
To participate, you must become a member in one of three FREE membership categories:
Hiring Members – Businesses, agencies, and organizations searching for qualified candidates (with disabilities) to fit your company's needs
Voc Rehab & Agency Members – Government, non-profit and community based groups who provide vocational rehabilitation, job coaching, and placement services
Job Seeker Members – All Job Seekers with disabilities submit your resume to be seen by regional and national hiring members
Membership Benefits:
Your free membership gives you unlimited access to our array of employment tools:
Contact Us:
Call us at:
1-888-492-2402
Email us at:
member@onemoreway.org
Write to us at:
The Sierra Group Foundation
One More Way Project
588 N. Gulph Road, Suite 110
King of Prussia, PA 19406
---
One More Way™ is an 'open source' program of The Sierra Group Foundation, a 501C(3) non-profit organization dedicated to driving up employment for Americans with Disabilities, including veterans.
---