Use the One More Way™ Search Engine Powered by Google™ to find the disability information that you need.

Learn about Tele-seminars.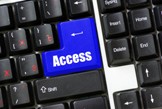 Combination Resumes
The combination resume has the advantages of both the chronological and functional formats rolled into one. One way to do this is to create a career profile (the functional section) that is placed before your work experiences (the chronological section). The career profile also appears before the education section. If you do not want to create a combination resume, you may still find some of the tips here useful.
Sometimes a section labeled professional or career profile, or simply profile, is used. This section is different from the Career Objective or Summary. It conveys much more detail and contains selected highlights from your work, education, and volunteer-related experiences. You should place it directly underneath your Objective or Summary.
This section tells the employer about your best accomplishments and the benefits you offer an employer. You do not need to list the company you worked for or the dates (though for emphasis you may wish to); these details should be placed instead in your work experience section. Generally speaking, listing more than six items is too much.
This section, in combination with your work experience, is the most important part of your resume, so tell the employer the best things about yourself here. Whenever describing accomplishments, be precise. If possible, quantify your results. For example, you could write "Reorganized order processing procedures to reduce time required by 30%."
Sample Phrases
Here are some things you may want to include somewhere in your career profile and work experience sections:
added value to the company by...
awards & recognitions
contributions made
exceeding goals
expense savings
improving sales
increasing productivity
inventory reductions
mergers & acquisitions
new policies & procedures
new technology/product introduction
problems identified & resolved
productivity improvements
profit improvements
quality improvements
reducing employee turnover
reengineering successes
revenue increases
start-ups & turnarounds
Example:
Here is an example career profile of someone applying for an office position.
Career Profile
Experienced in administrative duties; scheduled meetings, handled travel arrangements and purchasing.
Computer skills include Microsoft Excel, Access, Word, and PowerPoint.
Excellent problem solving and communication skills. Accustomed to long work hours.
Winner: Employee of the Month 1999 for October and December at Aerostar Inc.
Call us at:
1-888-492-2402
Email us at:
member@onemoreway.org
Write to us at:
The Sierra Group Foundation
One More Way Project
588 N. Gulph Road, Suite 110
King of Prussia, PA 19406
---
One More Way™ is an 'open source' program of The Sierra Group Foundation, a 501C(3) non-profit organization dedicated to driving up employment for Americans with Disabilities, including veterans.
---