Media Advisory
Contact: Emily Coder
215-634-2000 x258
ecoder@lriacademy.org
FOR IMMEDIATE RELEASE
October 17, 2012

NEW Job Board for Americans with Disabilities RECRUITDISABILITY.ORG goes live!
Philadelphia, PA – A new diversity Career Site went live today to help combat the high unemployment rate!  Designed to LINK millions of unemployed and underemployed Americans with disabilities to employment opportunities, The Sierra Group is pleased to announce the launch of our FULL SERVICE JOB BOARD -- RecruitDisability.org.
"Powered by the depth of industry expertise, and over 20 years of connections to job seekers, agencies and businesses alike, we are thrilled to offer a long awaited full service job board. Adding this job board to The Sierra Group family of services is truly OneMoreWay to drive up employment for the LARGEST GROUP of unemployed Americans," says Janet D. Fiore, CEO/President of The Sierra Group. (Job Seekers, post for FREE).
Because heightened regulatory attention has been paid to affirmative recruitment and retention of employees with disabilities, the demand for a more robust resource, such as a job board, was on the rise.  The growth in employer demand for workers with disabilities is thanks in part to the 2009 Amendments to the Americans with Disabilities Act, combined with both the enforcement directives and pending rule changes at the U.S. Department of Labor's Office of Federal Contract Compliance Programs (OFCCP). 
"To meet this demand for candidates with disabilities, including veterans, RecruitDisability.org launched from its Philadelphia headquarters this week before an excited crowd of regional businesses and job seekers.  Our guests for this Disability Awareness Day luncheon were the first to hear of our new nationwide economic and compliance enhancing resource," says Fiore.
The RecruitDisability job board already includes the resumes of thousands of job seekers with disabilities and open positions nationwide. The Sierra Group's newest program --  RecruitDisability.org -- is sure to meet the growing demands of both job seekers and employers.
"Recruiters are more eager than ever before to find qualified individuals with disabilities to address affirmative action requirements," says Douglas L. Pilarski, Talent Management Consultant at Sawyer TMS.  "The launch of this job board will be very valuable to this industry and to the lives of millions of Americans."
Capitalizing on the success of the existing million member strong One More Way collaborative, RecruitDisability.org centralizes the different avenues by which job seekers and recruiters satisfy their employment needs.
The Sierra Group Foundation, 588 N. Gulph Road, King of Prussia, PA 19406
Recognizing that leadership is required to build the connections between job seekers and employers, The Sierra Group Foundation works to build collaborative solutions that are designed to reverse the high rate of unemployment for people with disabilities. Foundation programs include: The Sierra Group Academy; The One More Way Collaborative; EmploymentIncentives.org and RecruitDisability.org. Learn more about these programs at: www.thesierragroupfoundation.org.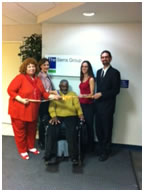 Celebrating the launch of RecruitDisability!  From L to R: Kathy Barnett, job seeker; Janet Fiore, CEO and President; Harvey Brown, instructor; Emily Coder, Outreach Coordinator; Chris Hyson, Assistive Technology instructor.
---